Korčula is according to legend the birthplace of the famous explorer Marco Polo. The wealth of its stonemasonry and architecture has been winning visitors over for centuries. The town of Korčula has sprung up on a small peninsula where the streets spread in a fishbone pattern, while medieval towers which surround the old town core remind of the fortress town's past. Other major attraction are the Half New Year's Eve in the summer and the sword dance Moreška, a centennial tradition.
Entirely surrounded with tall ramparts, Korčula's visitors are safeguarded by as many as eight medieval towers. The town's quaint seductive ambience is completed by the trademark stone stairways, which have long ago connected the initially inhabited peninsula to the mainland.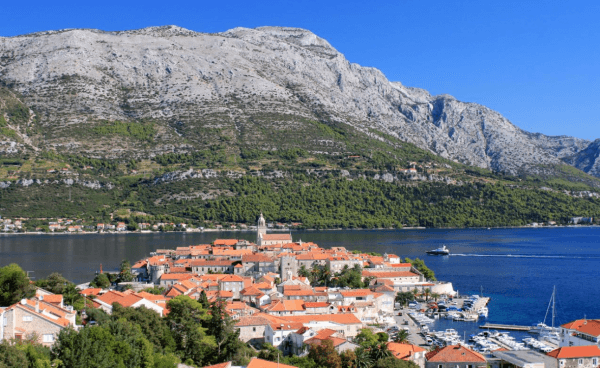 Passing through Veliki Revelin tower atop a stairway, the visitors come under the irresistable charm of the old town. The harmonious buildings of old Korčula are a triumph of construction. A walk along the main street continues on to the cathedral, whose stonework was carved by local fifteenth century artists, while the interior was painted by old Italian masters.
In the plaza before the Cathedral of Saint Mark there is a sequence of Renaissance buildings such as the Abbots' palace. Inside its walls, Korčula contains one of the most opulent church treasuries in Dalmatia. The wonderful Gabriellis family palace houses the Town museum, another repository of past secrets.